Robust shake-out stations for large & heavy castings
The shake out range for medium and heavy castings, with double and four grid plates, require a special demand on the equipment. This also includes the design of the crane handling systems, the dedusting system and sound insulation. For this purpose, Küttner has built large cabins with efficient vortex hoods, mobile roof segments and heavy duty doors.
Today, the heavy application grids are driven by closed exciter drives and are vibrationally isolated from the foundation via heavy counter-swing frames. The hot sand is split in the buffer under the grid, before reclamation, to ensure the overall throughput. The residual iron is removed from the grid and separated from the hot sand with magnets and conveyed out of the basement.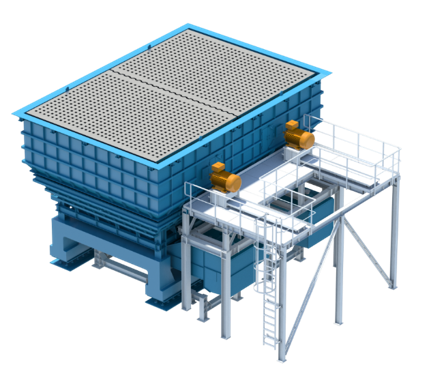 Besondere Merkmale
Grid design with small openings, which ensure a good pre crushing of lumps and prevent the drop of chillers
Grid drive with heavy duty exciters, for a low maintenance application
Reverse drive of double grids to avoid air vibrations.
Services
Design of shake-out-stations with air / noise control cabin and filter
Integration into a superior room air concept with fresh air supply and waste heat recovery
Design and delivery of hall crane systems
Unsere Partner
Kuttner No-Bake solutions